Reconciliation Week 2020
It is National Reconciliation Week, and we have taken this opportunity to make sure our acknowledgement of the first custodians of this land is included on every page of our website.
It has been a week of both bad and good news for the first custodians of our country.  At the start of the week Rio Tinto blew up a 46,000 year old cultural site with the consent of the West Australian government.  But then Fortescue Metals lost their appeal against a significant Native Title claim and later in the week the Tasmanian Premier, Peter Gutwein, reiterated that soon the petroglyphs from preminghana would be returned to the Tasmanian Aboriginal community.
There is still much to be done.  We support requests for greater participation by the first Tasmanians in administration of the state's national parks, protection of their cultural sites on the coast of the Tarkine (takayna) and a representative in the State's parliament.
It is going to take some work, but with each day that passes if we keep trying we can get closer to meaningful reconciliation and accept that we are "all in this together".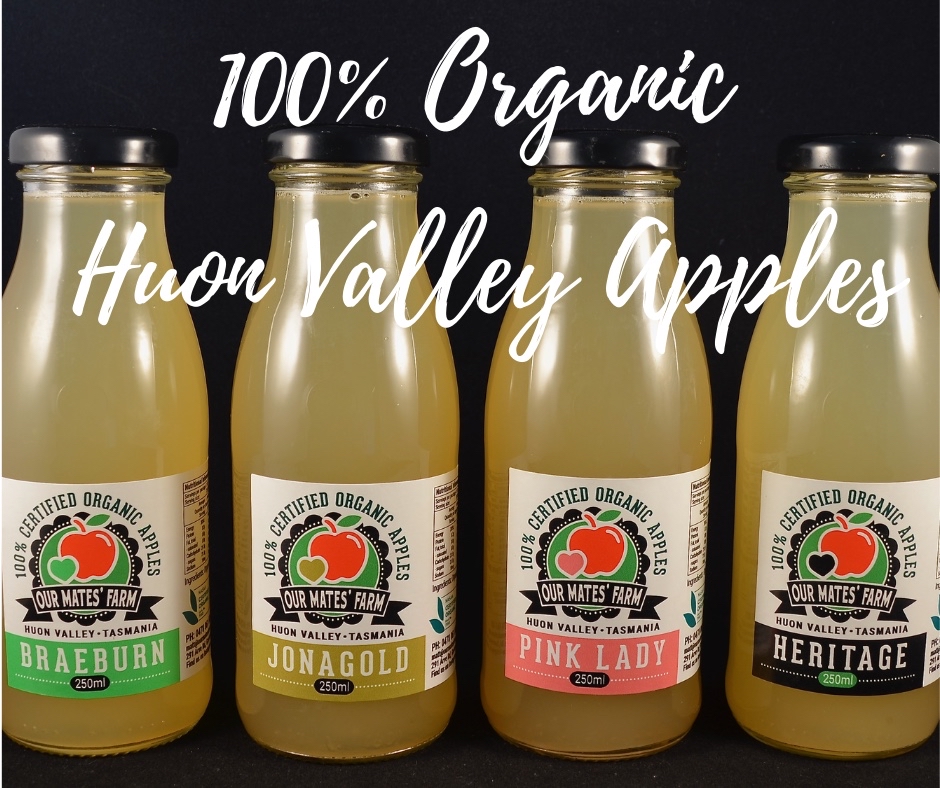 It's not apple juice, it's the juice from an apple
Well, it is time to 'fess up, we make apple juice.
It all started out as a bad season for black spot, a cosmetic issue that apples can be affected by.  They still taste good, but customers won't buy them.  In fact, there are lots of cosmetic issues that affect organic fruit.  Little bumps, dimples, some russeting on the skin.  The alternative is to sell them as juice fruit, but receiving $100 a bin for certified organic apples that cost at least half that to pick, and twice that to grow, doesn't appeal to us.
And so, up against the wall, facing a season of lost revenue, we took the plunge, bought some equipment and had a go at pressing our own juice.  From that first taste we were amazed at how good it was, how each apple's unique flavour came through in the juice, and couldn't believe that every apple juice we had ever consumed before this had all tasted, well, so much like one another.
We tried lots of different things along the way and were told we wouldn't succeed because it wasn't in anyone's interest to help us.  But despite that we persevered and have been quietly selling our single variety apple juices for the last couple of years.
We only use fruit we would be happy to eat, all those apples that folks can't believe a supermarket would refuse.  We put it in glass, because who wants more plastic in their lives (not to mention who doesn't need another bottle for homemade passata)?  And we pasteurise it quickly and cool it quickly, to preserve the unique flavour of the apple that's on the label.
At the moment we have Jonagold juice in abundance, we have done a limited run of Cox's Orange Pippin under our Heritage label, and soon plan to add more Braeburns and Pink Ladies to the mix.
We have trialled both 1L and 250ml bottles in the past, however at the moment we are focused on the 1L bottles as people move to consume more at home.  We have these (as well as our apples) available with our good friends at Unpacked in Kingston and are now looking for more stockists.
And as a kid who tried our juice at a festival one day was overheard to say "No mum, it's not apple juice, it's the juice from an apple".   And we think that's the difference.
Springtime in the orchard
It's spring! A few of our apple trees are starting to wake up. The latest picked always seem to be the first to bud!
It's the busiest time on the farm, especially on the orchard front. We haven't quite finished our pruning (a winter job that always slides through into late spring – eek), and the warming temperatures and rain events also mean the start of organic spraying. Plus the weeds in our home garden are happily growing along with all the sun and rain!
Thanks to our mates at Fat Pig Farm – a tiny cameo on 'The Gourmet Farmer', and apparently their weekly newsletter! – we have seen a few drop-ins on our website, with increasing interest in our orchard pork and lamb. So here's a small update on what we have available:
Our lamb will be available around Dec/Jan and again in April/May, once we have tested a lamb or two for ourselves and are happy with the quality.
The next pork sides will be available in mid October. However these have nearly sold out.
We have plenty of pork sides available from mid-November. These is the pre-Christmas batch and will include whole bone-in leg ham!
You can buy our certified organic apples from Harvest Feast at Saturday's Salamanca Markets, or Unpacked Wholefoods in Kingston (plus our juice and dried apples), as well as our small honesty-box stall at our farm gate (apples+juice+dried).
We occasionally have beef boxes available, if you are interested we can pop you on a wait list.
For information on what you get in a pork side, we have a handy info sheet in the Contact/Orders page, as well as a great unpacking video on the May 7 posting (scroll down in Latest News). You can send us a message, or drop in an order form and we will get back to you with more information!
Follow us on Facebook or Instagram (@ourmatesfarm) for regular updates.
Happy springtime, with all the potential it brings!
Cheers,
Matt & Cor
Our Mates' Farm, Geeveston
Orchard Lamb orders now open
Hi folks
If you have missed out on our January orchard pork, don't cry… We have beautiful orchard lamb ready for you! An English heritage breed that is raised solely for meat, these Wiltshire Horn lambs are tasty and tender.
We are taking orders for whole lamb (only) – our standard cutup includes roasts, chops, and mince. We charge $12/kg on hookweight, with the lambs averaging 20-24kg. You can request 'light' or 'heavy' in the order form message box if you prefer a smaller or large lamb.
Navigate to the Contact & Orders page to order.
We deliver to the Huon Valley, Hobart & surrounds, and Kingborough areas.
January pork orders now finished
JANUARY ORDERS ARE NOW CLOSED.
Sorry if you missed out.
More pork should be available in May.
Hi folks!
We are taking new orders for our orchard pork. These pure heritage breed Large Black pigs are truly free range, and are finished on our own certified organic apples.
Our standard half-a-pig cutup includes dry-cured, nitrate-free, applewood smoked bacon, leg roasts, chops, ribs, mince, rolled shoulder roasts and even extra crackling. We can also do something special if you wish.

We have 14 pigs ready right now, with expected delivery dates of 8/2, 15/2, 22/2 and 1/3.

Head on over to www.ourmatesfarm.com and click on Contact & Orders for more information. And if you aren't sure what exactly you get when you buy half a pig, click on the Latest News page for a video where we show you!
Christmas pig-in-a-box!
ALL PRE-CHRISTMAS PORKERS ARE SOLD OUT
SORRY!
If you haven't already received a confirmation email from us with the dates & details of your pork | ham | bacon, it is too late!
We will keep you posted on our next availability.
Well we have been a little quiet the last few months, we settled into a bit of a rhythm going to Willie Smiths market every fortnight, eventually going every week with the Huon Producers Network.  We sold our last 2 litters of pigs in September and we were waiting while our next 2 litters grew up ready for market.  Well, now that time has come, and it is just in time for Christmas, so we have a very special offer for you all!
For any orders placed prior to Saturday 17 November our standard cutup will include a bone-in smoked Christmas ham instead of bacon.  If you still want our tasty bacon for that Boxing Day breakfast (or as a gift for the hard-to-please carnivore in your life) we can include that as well for an additional $25.
If this sounds like all kinds of delicious go onto our order page here and secure your Christmas ham today before they are all gone!
Unboxing half a pig!
One of the questions we get asked the most is "How much room do I need in my freezer for half a pig?", followed closely by "What is included when I buy half a pig?".  So we thought we would answer both questions with this little video!
Come see us at Willie Smiths!
That's right, for a limited time we will be at the Willie Smiths Artisan and Produce Market, filling in for Luke and his awesome Whitegrove Farm pork.  We had a great day there a couple of weeks ago and we plan to be there every second week for the next 5 weeks filling (21 April, 5 May, 19 May).  Come along and get a taste of our free range, apple-finished pork.  We will also have our dry-cured, nitrate free, apple-wood smoked bacon for sale.  We know that sounds like a mouthful, but trust us, it's delicious!
In other exciting news we have sold all of our March orchard porkers, and we are now taking orders for the next group that will be ready in late May/early June.  Get onto the orders page and get your order in.  And remember, every side includes apple-wood smoked bacon…. yum!
March orchard pork now available!
Well it has finally happened, we are now ready to take orders for our orchard pork which will be ready at the end of March.  We will spend the next 4 weeks feeding these happy little porkers apples every day to make sure that you get the most delicious pork possible.
For more information check out this handy information sheet, or call us on 0435935433.  You can also complete an order form here.